Engineering Support Services (ESS) for Midland, TX & the Surrounding Areas
Stop The Guesswork!
Are you "pretty sure" your well design or completion plan will work? Stop guessing! HMC is proud to unveil the next generation of fluids expertise: Engineering Support Services (ESS).
Our ESS Team provides a level of insight and understanding that is unmatched by our competitors: focusing on the natural alignment of drilling engineering with respect to well fluids.
Understanding torque and drag, fluid dynamics, drill string mechanics, well path optimization, geomechanics and even drilling rig system limits, has often been a disjointed effort involving multiple service providers. HMC's Engineering Support Services provides FOCUSED expertise across each of these critical inputs by combining world class technology, K&M Technology Group's Extended Reach Architect (ERA®) software, with over 30 years of PRACTICAL drilling engineering, completions engineering, and well optimization experience. Given the chance to be coupled with our proprietary, agri-sourced, eco-friendly fluid systems and our high-performance lubricants, ESS can truly unlock the full potential of your wellbore.

The opportunity to benefit from HMC's vast experience coupled with the power of K&M Technology's software in the hands of a highly regarded and well-respected Drilling Engineer, made our decision to partner with HMC on our drilling project very easy.
Turn to the Engineering Experts
HMC's Engineering Support Services is a unique offering of unbiased design, execution, and advice for planning of complex wellbores, challenging well operations (drill-out, liner setting, cementing, etc.), and root-cause analysis. The ESS model is provided as EITHER a standalone service or in conjunction with HMC's fluid systems. As a standalone service, Engineering Support Services provides customers access to full-service Drilling Engineering consulting such as well permitting, AFE generation, and well project management, or provides well optimization services such as look-back analysis and SOP review.
Competitively priced, experience backed, technology driven, HMC's ESS Team is the engineering service partner of choice for companies in Midland, TX; Odessa, TX; Dallas, TX; Houston, TX; Fort Worth, TX; Oklahoma City, OK; Jal, NM; Carlsbad, NM; Denver, CO; and Cheyenne, WY. We are proud to serve customers throughout the United States, including those in Colorado, Louisiana, New Mexico, Mississippi, Wyoming, and our home state of Texas. Contact us to learn more about our engineering support services and the benefits it can provide your upcoming drilling project today!
ESS Data Flow Model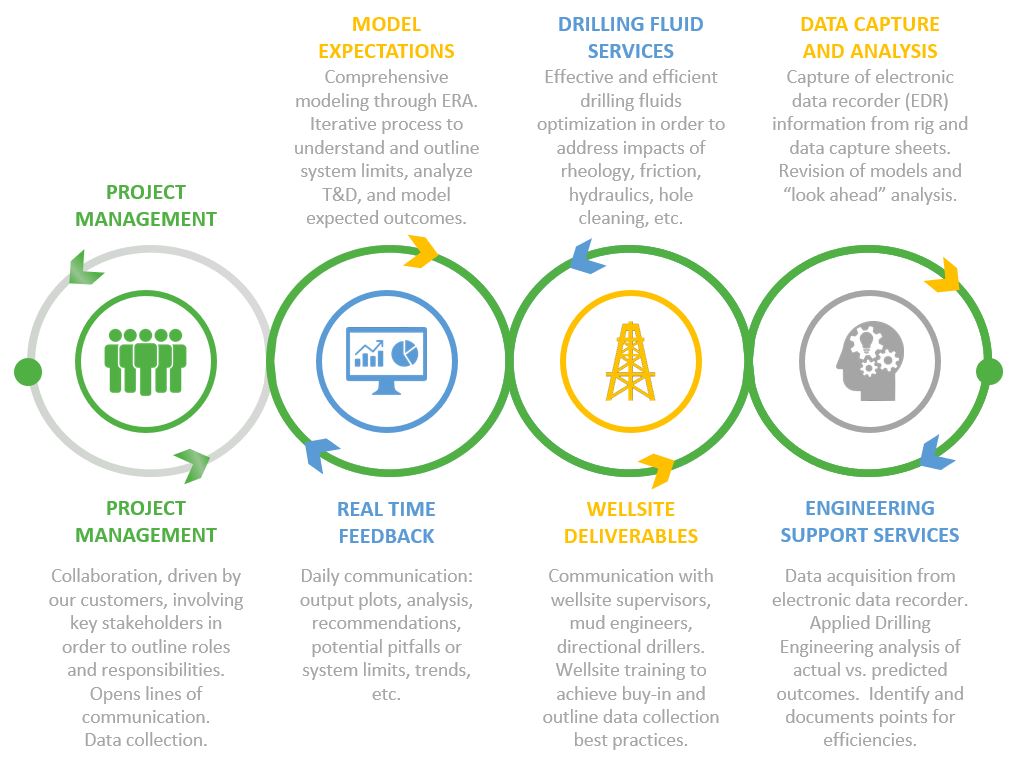 Contact HMC to Learn More.
Get in touch today with any questions, or to get to know our team better. 
"*" indicates required fields